In the setup of your blogs, you were asked to add an ABOUT page. Some themes automatically add this new page to your main menu….Some themes do not. In order for your viewers and followers to see this page, you may have to manually add the page link  to the menu.
On Blogging with Mrs. C. the menu is at the top as illustrated here: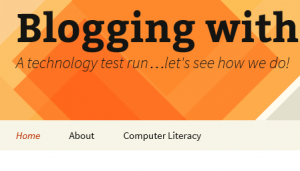 As you can see I also have a Computer Literacy "tab", this was added using categories which is kinda cool…and we will learn how to do that next quarter!
To add your ABOUT page to your menu, go to Appearance>Menus from you dashboard:
You will see :
Check your ABOUT page, then Add to Menu
Be sure to SAVE MENU before you exit. That should do it!
View you blog to be sure you were successful!
Additional instruction on customizing menus can be found in Edublog Help.
….as always, HAPPY BLOGGING!
Mrs. C.